We have opportunities for volunteers to help deliver the Creatures of Habitat Program. Please contact us.
Indoor activities include an EnviroJeopardy presentation, which is modeled after the game show Jeopardy, but with questions about the environment. Workshops are presented by partner organizations such as LifeCycles, CRD Parks, Parks Canada and Victoria Compost Education Centre.
The outdoor component involves students in hands-on restoration activities on their school property or at nearby green spaces. The nature of the activities depends on the school, but often include invasive plant species removal, salmon fry releases, weeding, mulching and native species plantings.
Introduced in 2009 in partnership with a group of concerned community members, our proactive environmental education program reaches over 600 students every year.
The success of Creatures of Habitat relies on the support of volunteers, as each school location requires anywhere from 15 to 25 volunteers to help with the outdoor activities.
To add your name to our volunteer list, please contact us at PeninsulaStreams@gmail.com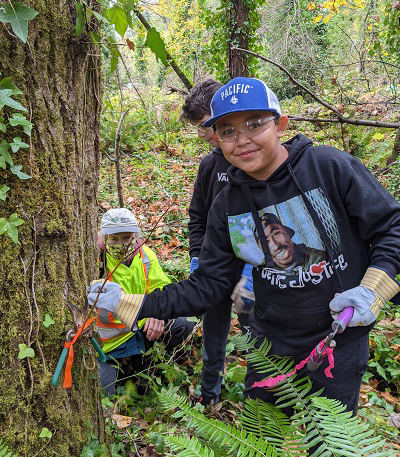 Our proactive environmental education program reaches over 600 students every year