The Hagan-Graham Watershed is one of the largest on the Saanich Peninsula, spanning almost half of the Municipality of Central Saanich. The watershed is made up of two streams:
Hagan Creek has several small tributaries and originates in the north from Mt. Newton, and,
Graham Creek originates just south of the Central Saanich border in the area between West Saanich Road and Old West Saanich Road.
The two creeks connect two kilometres upstream of Saanich Inlet.
The watershed is impacted by a variety of human uses, including industry and agriculture. Pollution is entering the watershed through the storm-drain system. Consistently high pollution levels, including heavy metals, hydrocarbons and fecal coliforms, have been measured from a culvert that drains the west side of the Keating industrial area.
Graham Creek once flowed through old-growth Douglas fir forests and a biologically rich wetland on its way to Saanich Inlet. Over the last 100 years, these conditions steadily disappeared, as forests were cleared and the stream was straightened for more rapid drainage. As stream health declined, so did the presence of fish.
We have completed several restoration projects in the lower Hagan-Graham Watershed. We formed a partnership in 1997 with the University of Victoria, the Institute of Ocean Sciences, Woodwynn Farms and the Tsartlip First Nation to undertake the restoration.
Graham Creek.  Our first project, organized in cooperation with the District of Central Saanich, was the construction of pools and riffles and bank stabilization of Graham Creek as it flows through Centennial Park. Trails along the creek were also fenced to prevent trampling of the banks and allow riparian plant regrowth. Within a year of completion, cutthroat trout and other natural inhabitants had returned to the park.
Hagan Creek. We next built pools and riffles and encouraged natural meanders on a large section of the creek. The riparian area was fenced and replanted with native tree species. In recent years, we have focused mainly on similar stream restoration and riparian planting on a one kilometre stretch of the creek in the upper Mount Newton Valley, where it flows through three adjacent farm properties. This work included adding a wetlands pond fed by artesian springs to the complex.
Future work will focus on restoring the natural function of the Vickery Ponds on the slopes of Mount Newton near the creek's northern headwaters.
Water quality monitoring. Our volunteers, in conjunction with the Hagan-KENNES Stewardship Initiative and the District of Central Saanich, have conducted monthly water quality sampling at six stations since 2005. This long-term initiative supports restoration work and protects the health of the ecosystem. We report high levels of pollutants to the municipality.
Today, restoration measures by local stewardship groups and residents have helped restore the creeks and their natural features by building riffles and pools, adding logs and boulders and replanting the banks.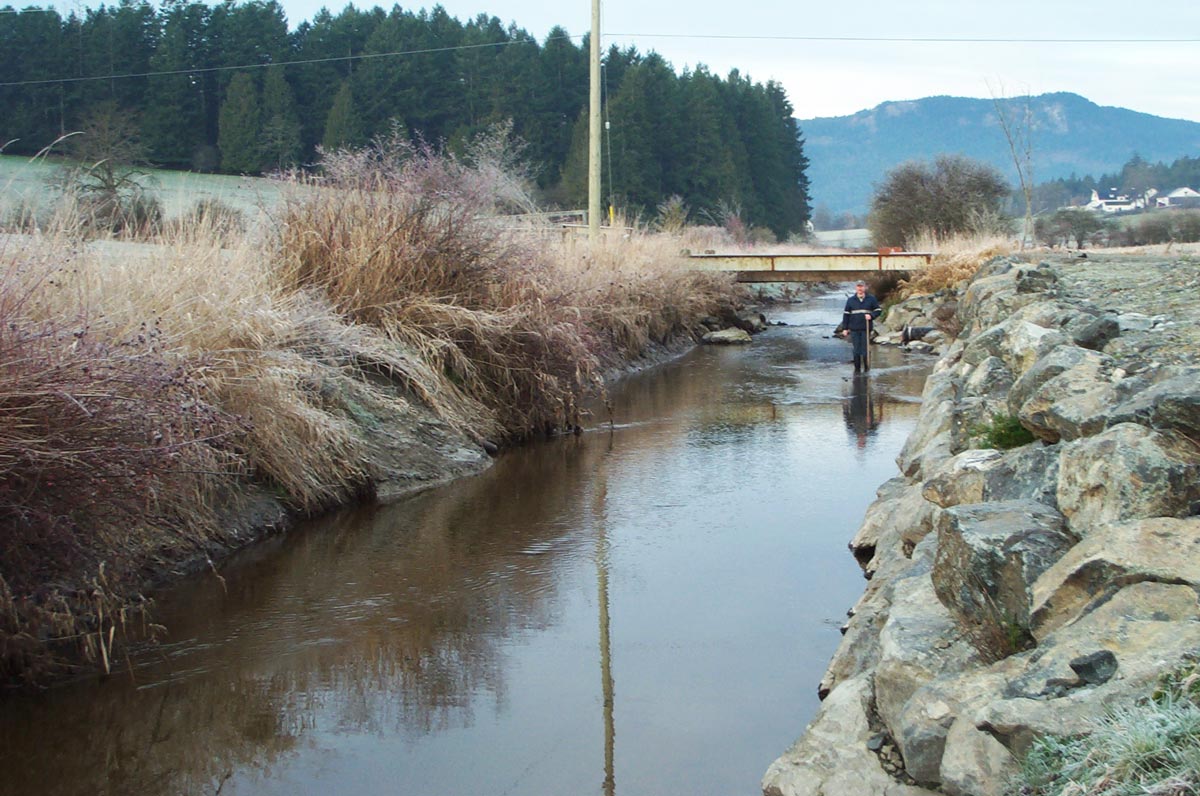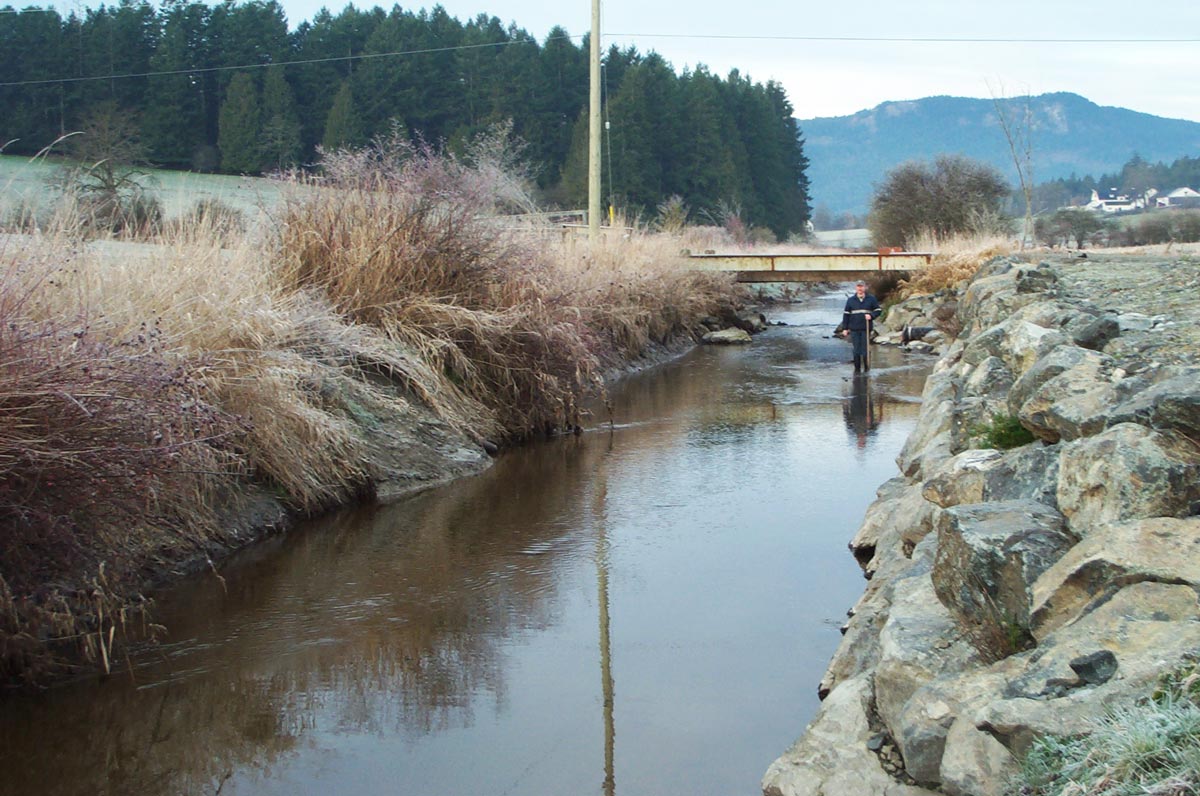 The view from Hagan Creek
Within a year of completion, cutthroat trout and other natural inhabitants had returned to the park.