Songhees Walkway Pocket Beach Restoration
Background: 
The Songhees Walkway Pocket Beach is located on the north shore of Victoria, British Columbia's Middle Harbour, approximately 1.5 km west of the city's core, in the southeast corner of Lime Bay Park (48.427702, -123.383662). It is within the Traditional Territories of the Lekwungen People known today as the Songhees Nation and the Esquimalt Nation.
The heavily modified site is a relic of what was known as Mud Bay, an important and productive place within the Traditional Territories of the Lekwungen People, now buried beneath fill and development.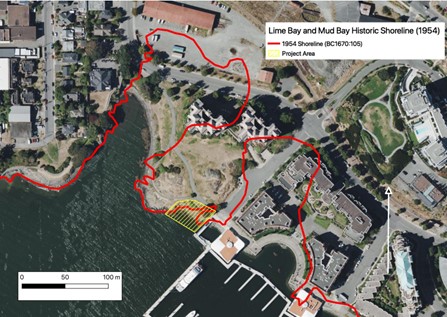 Heading a small peninsula separating two bays, Lime Bay to the west, and what was formerly Mud Bay to the east; the beach complex supported numerous periods of pre- and post-colonial settlement. This included a village site with relatively sheltered and productive shorelines providing ideal conditions to launch and land watercraft, such as traditional large Western redcedar (Thuja plicata) dugout canoes.
Historically, the shoreline was likely protected by productive forests of macroalgae with the bays rich in bivalve communities and eelgrass meadows (Zostera spp.) The conditions provided by the small pocket beach and surrounding bayed beach complex likely provided spawning habitats for species of forage fish including Pacific Herring (Clupea pallasii), sand lance (Ammodytes personatus), and Pacific surf smelt (Hypomesus pretiosus).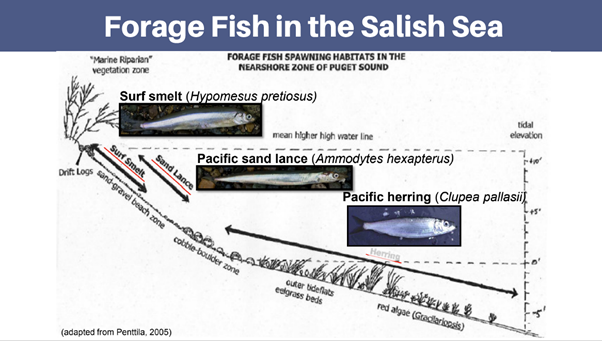 The Project:
Peninsula Streams Society, in partnership with the City of Victoria, the Songhees Nation and the Esquimalt Nation, and as part of the Pacific Salmon Foundation and BC Stewardship Centre's Resilient Coast for Salmon Program, will take a Green Shores for Shoreline Development approach to enhance conditions of an urban pocket beach and shoreline. This project will install a hybrid backshore designed to provide added protections and resilience to an eroding backshore by excavating, regrading, and stabilizing using a combination of large boulders and native beach riparian plantings.

Phase 1 was completed in 2022. Hard armouring and debris were removed. Large boulders were consolidated to create a retaining sill at the bottom of the tidal zone, and 400 tons of fish-friendly alluvial sediment was brought in to nourish the beach. One month after project completion, surf smelt were detected using the newly placed materials for spawning! Monitoring throughout the winter allowed us to adapt the plan for 2023.
Phase 2 is scheduled for May 15th - Jun 30th, 2023 and will focus on the backshore, and once again see non-native armoured rock and materials removed from the beach. We will excavate the backshore to make room for more beach nourishment including ~150 m3 of sand-gravel mix suited to providing more spawning habitat for species of forage fish, including surf smelt (Hypomesus pretiosus) and Pacific sand lance (Ammodytes personatus).
The backshore will then be stabilized using boulders and native plantings. Treatments will enhance public access and cultural use by creating a beach area conducive to landing canoes and small crafts, including those used for Songhees cultural tours. Existing major public infrastructure up-land, including a public walkway and large commercial residential buildings, will gain resiliency against erosion, sea-level rise, and storm surge flooding. Songhees Walkway residents and visitors will benefit from the increased usability and aesthetics of the city park beach. The cultural component of this project provides opportunities to share and promote the rich Indigenous history and continued use of this regionally important site for the Lekwungen People. Located on the doorstep of an urban centre and championed by local and regional ENGO's, the project will serve as a demonstration of the benefits of nature-based solutions and efficacies of shoreline enhancement in the Salish Sea.
Phase 2 Engineered Drawings (May 15 - 30 2023)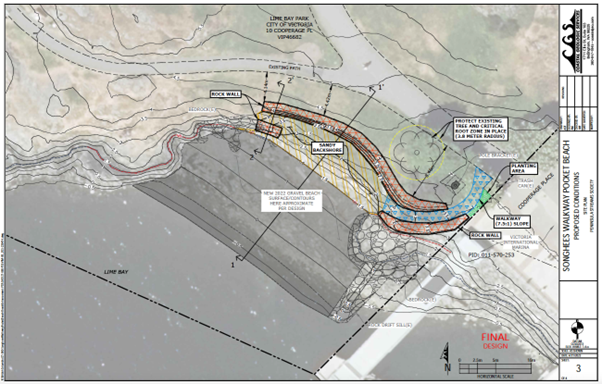 During beach restoration (May 15-30th) the area will experience additional truck traffic as materials are delivered to the site. Ten tandem truckloads of material will be delivered and at least as much removed; an excavator will also be on-site providing earthworks. Short temporary closures to the pathway are expected while trucks bring their loads in and out and are loaded. Flaggers will be onsite to direct pedestrian traffic to ensure public safety. All works will be in compliance with the local noise bylaw.