Water Quality Monitoring Program
Our citizen scientists monitor water quality in creeks for the Districts of Central Saanich and Saanich, collecting samples on Hagan-Graham, Tetayut, Swan, Haliburton, Bowker and other creeks as necessary.
The objective is to collect enough data to identify watershed trends and raise awareness of watershed health. Volunteers measure stream conditions by taking water samples for complex lab analyses, as well as measuring physical and nutrient parameters of the water.
Water quality monitoring is an important safeguard for local creeks. Our volunteers have discovered and reported many pollution incidents over the years, which has resulted in early remediation and prevented long-term damage.
Our public education and awareness projects, such as the Keating Industrial Park Water Quality Initiative, are intended to help businesses increase employee awareness and to improve the handling and disposal of hazardous materials.
We also work with landowners to educate them on problems associated with depositing organic matter in creeks and the importance of riparian vegetation and stream features, such as large woody debris and pool-riffle complexes to stream health.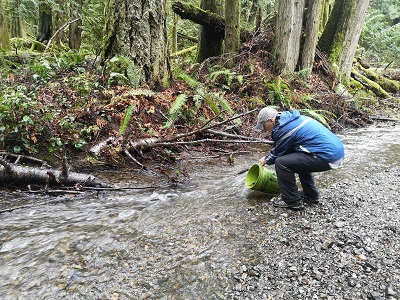 Volunteers logged over 130 hours in 2020 collecting samples and monitoring water quality and conditions.