Did you know that many members of our Greater Victoria community have the potential to take on meaningful restoration projects on their own property? However, restoration can be an intimidating prospect, as it involves more than simply digging out some invasive plants. So, how do community members transform a backyard space into a habitat for native critters? One great example is the collaboration between Rico Soto, a local landowner and long-time stream steward, and Peninsula Streams Society (PSS) to create coastal cutthroat trout spawning habitat in his own backyard brook.
Rico's property is on Goward Springs, an upper tributary of the Colquitz River. Over the past four years, Rico began to notice that there were minnows and young cutthroat trout living in the shallows. The previous property owner believed that the degraded brook had no fish. But Rico stated that "the fish were clever, hiding during the day and emerging only at night." He spent countless hours monitoring fish migration patterns and lifeways, while brainstorming ways to make the creek more productive. His goal became to restore it to its former glory days, when it teemed with spawning trout and salmon.
After seeing the success of PSS's larger-scale restoration projects in Tod, Reay, and Millstream Creeks, Rico realized that partnering with PSS would be the key to making his small-scale restoration project a success. He was able to improve the stream in a variety of locations on his property, adding habitat enrichment structures such as riffles and larger pools. Inspired by this positive change, Rico's neighbours are now also committed to improving their sections of creek and are actively working with PSS to complete restoration.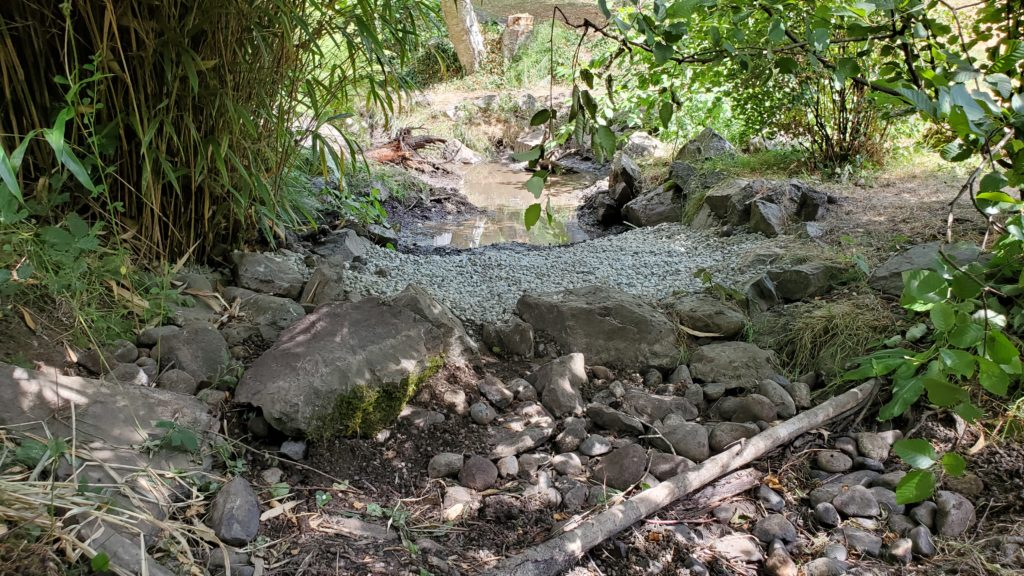 Rico strongly believes in the effectiveness of the completed restoration work. He says that it is "amazing not only to have a beautiful little creek in our back yard that holds wild fish, but also to have a group as passionate as PSS to work with and learn from."
Look at your own property. What do you envision for the space? What kinds of plants and animals live there? Do you have the feeling that something is missing? Reach out, we'd love to hear from you and help conduct a habitat assessment. Because no matter the scale, habitat restoration can make a big difference!
Work on Rico's property went seamlessly due to the help of interns from World Fisheries Trust, who were trained by Pen Streams staff.
If you'd like to get involved in PSS stewardship and restoration work, contact us!